WUZZLES are word puzzles consisting of combinations of words, letters, figures or symbols positioned to create disguised words, phrases, names, places, sayings etc. This type of puzzle is called a rebus -- a word and symbol puzzle that dates back more than 2,000 years to the Persian Empire.
The secret to solving WUZZLES word puzzles is to determine the missing "concept," such as in, on, over, under, before, after, between etc. (There are more than 500 different Wuzzles concepts.) For example, the solution to NOON GOOD is "Good afternoon," and LINE READ LINE is "Read between the lines."
| | |
| --- | --- |
| | This WUZZLE is based on two different concepts, one relating to position and the other to a number. Can you identify the phrase coded in the puzzle? |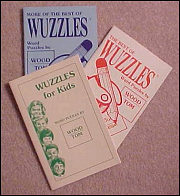 If you answered "Good Intentions," you are correct and are now an official wuzzler.
WUZZLES word puzzles have been syndicated by King Features since 1985 and appear daily in many newspapers around the world, particularly in the United States and Canada. If your local newspaper doesn't carry this feature, you may write or call the editor and ask to have it added to the lineup.
To test your Wuzzling skills further, Tom Underwood has compiled hundreds of his best WUZZLES into three challenging and entertaining booklets. To order one or more WUZZLES booklets, print and fill out the WUZZLES Order Form.
Tom Underwood has been creating WUZZLES for 35 years, and now has more than 15,000 of these pesky puzzles in his computer files. The ancient Persians might have been the first to create WUZZLES, but the Underwood files must certainly contain the most.
Happy Wuzzling!